Automotive Services and Repair Shop

We now have automotive services and repairs at Trusted Rentals.
NEW LOCATION:

300 John Stark Highway, Newport NH
PHONE: (603) 763-1319
Inspections: $40. Labor Rates: $65/hour
Shop Foreman: Ryan Newcomb

Automotive Services we offer:
State Inspection Center
Oil changes and basic maintenance
Brakes
Front end alignments
Exhaust work (which includes repairs with our pipe bender)
Tire rotation, changing, balancing, patching
(We offer all the major brands of tires from Discount Tire)

Motor and front end work
Driveshaft and rear end work
Transmission service and diagnosis
Trailer hitch installations and wiring
Oil undercoats with fluid film
Installations of accessories: lift kits, nerf bars, driving lights, step bars etc.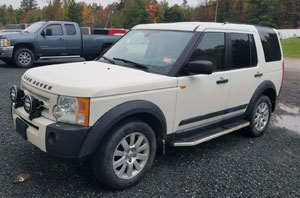 We now have a really fun LOANER VEHICLE! Now while your vehicle is being serviced at our shop, you can take our Land Rover for a spin.
And that's not all. We offer shuttle service if folks need a ride to work or pick up. We also have free coffee, popcorn, and a full range of free beverages. We even do agricultural inspections for farm trucks and can work on snow machines.
Newport, NH Automotive Services
Custom Exhaust Work
Delivery Truck Repair
We replaced a gas tank and welded on a new bumper after a "Lumber Barn" delivery truck was hit from behind.
Car Exhaust Repair
We make our own hydraulic hoses in-house with our Gates hydraulic hose crimping machine.
We do front end alignments with our new machine from Snap-on.
The image below shows a corrected Toyota front end alignment (BEFORE adjustment (RED), AFTER adjustment (GREEN). This is done with our new alignment machine.

Automotive Repairs
This is a fuel pump replacement in Chevy truck, done by taking the bed off.
This is a Total Brake Replacement on a Chevy One-Ton Truck.
Agricultural Inspections
We do Agricultural Inspections on Farm Trucks and can do complete rebuilds on snow machines after tree collisions like this one had.
Snowmobile Repairs
Here we are repairing a clutch and performing maintenance on a Ski Doo snow machine.