About Trusted Rentals
At Trusted Rentals, we rent HEAVY EQUIPMENT and TOOLS for construction, welding, concrete, excavation and yard care projects. You can rent them by the day, week or month in New Hampshire and Vermont. We also offer used heavy equipment for sale
OUR MISSION: Trusted Rentals LLC will work hard to gain your respect and provide you the best value in the heavy equipment rental business.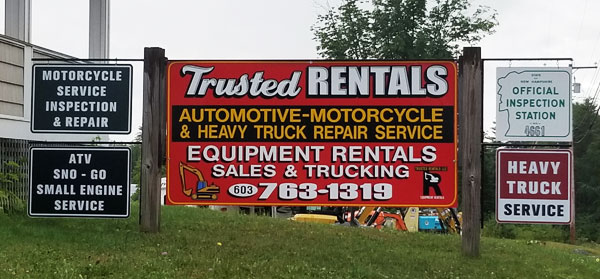 History of our Company
The company Trusted Rentals really got started by accident between 2009-2010. We were working on a job in Newbury, NH through my construction company "George M. Neuwirt Construction" and a neighbor came over and asked if he could borrow my man lift over the weekend to trim some tree branches that were hanging over the driveway.
I told him that I wasn't comfortable with him borrowing it but he could rent it from me, so I went home and drew up a contract. It turns out that as soon as he found out he needed to pay for the use of the lift, he lost interest fast. So that got me thinking about how much of a market there might be for equipment in New Hampshire that others might want to rent.
Sometime later, we had a job come up that required a mini excavator. I called around for places to rent one and had great difficulty. So I started looking to see what was out there to buy and I found one in Vermont that was almost brand new (for 25K less than a new one) so I bought it. We did our job with it and then, just for giggles, I put an ad in the local paper to see if it would be a rental item that people might want. It rented like crazy. Then I didn't have a machine to do our work, so I went to Townline Equipment in Plainfield NH and got a brand new Kubota. But that one rented quickly too, leaving me in the same predicament with my own work. So I got another new one. Well that one was gone all the time so I had to get another one. That's when Kubota credit cut me off. So there I was with 4 mini excavators and still pressed to have one that we could do our own work with. They were very popular and, at times, I was having to turn people away or have them wait weeks for the machines to be available.
The rental rates were competitive. I didn't charge any insurance and I transported at a discount rate, so staying busy wasn't an issue. Having equipment was the issue.
The history actually goes deeper than that. In the early days of the construction company, I started buying equipment because the building business was booming and I hired a carpenter that really wanted to dig dirt. So I bought a Cat 312 that worked really nice but we had no way to transport it. I had to get a dump truck and a trailer, and get licensed for it, which we did.
So we had the man lift to start with, the CAT 312 in 2007, the 4 mini excavators in 2010, and a way to transport. By the time 2011 came around, the idea of the rental company was in full swing and it just took off. I ran it through the construction company for 2011 and 2012 and then at the start of 2013, all the equipment in the construction company was converted over to the rental company so that it became its own separate entity. I came up with the name Trusted Rentals while I was in the shower one night back in 2009 and it all just stuck. I contacted the lawyer, researched the name to make sure it wasn't taken and formed an LLC. For the first 2 years of the rental company it was really tough as no one really took me seriously.
Most told me I was crazy and all that was going to happen was my equipment was going to get smashed all to hell and I was going to regret it. I did not listen to them and the company has doubled in size every year. Now we are buying equipment at auction and we have a full time driver to go get it and deliver materials, and we have full time mechanics in the shop to get things repaired and serviced as needed.
Trusted Rentals is now located at 300 John Stark Highway, Newport NH. We have expanded our services and now sell landscaping materials in addition to our used heavy equipment. We are also dealers for the State of NH now. Any used car, motorcycle or trailer leaves our lot with a temp plate. Thanks to all our loyal customers who keep coming back year after year.
 
Respectfully,
 
George Neuwirt
Owner/ Trusted Rentals