Trucking Delivery
NH Materials & Equipment Delivery
We can deliver or remove materials in one of our dump trucks. We have a new Tri-axle dump truck and a 10-wheel dump truck. Our 10-wheel dump truck is rated for 65,000 lbs. (which means it will hold about 20 tons). This is the maximum weight that can be transported by a three-axle vehicle. It's not a tri-axle but it can be freighted up pretty well and still be legal.
Tri-axle Dump Truck Materials & Equipment Delivery: $125/hour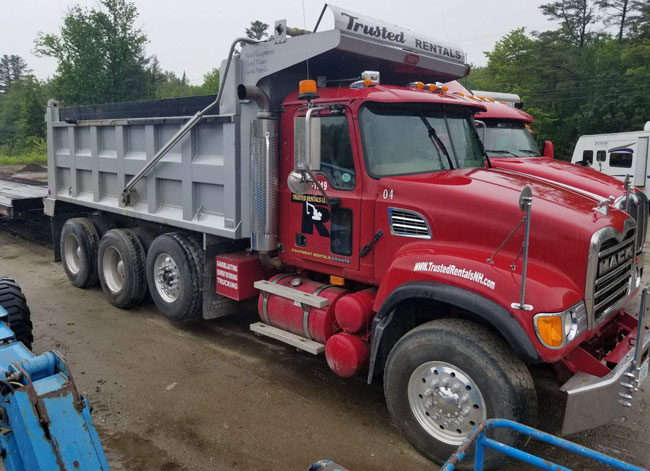 10-Wheel Dump Truck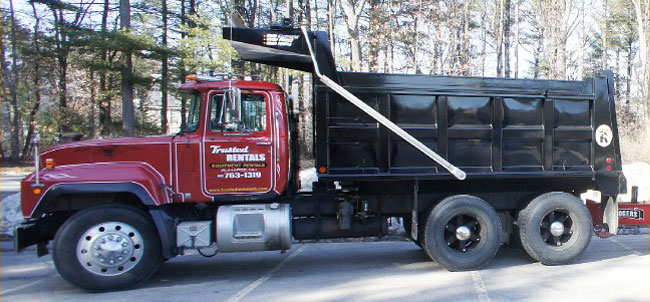 Delivery of Materials
We can take stumps, debris, woods dirt and dump it for free at several locations around Sunapee, New Hampshire. If you know of a place or a neighbor that will take it (and its closer to you), we will utilize that spot and to help keep the trucking cost down.
The only thing we ask is that if you have material to be loaded out that our driver load the truck as it is easy to smash up the bed while loading. When it comes to bringing fresh material in...we have accounts at Twin State Sand and Gravel in West Lebanon, N.H., Carroll Concrete and all their locations, Weed In Newport, N.H., and United Construction in Newport N.H..
If the material goes on our account for you to pay with the trucking, then we charge a 10% markup to handle the bill paying. If you set up your own account, then we would use that and you would get the charge directly on your statement and we would turn in the individual weight slips to you.
If you would like material delivered with a piece of the compact equipment, we can only deliver a half load (about 10 ton)...this would be with any of the mini excavators or the skid steer because of the weight restrictions. If you are renting the big excavator, we cannot haul any material with it (since with just the machine on, we would be at 65,000 lb GVW.)

Up to a 12,500 lb. machine can be hauled with this Ford F550 and 14,000 lb. equipment hauling trailer.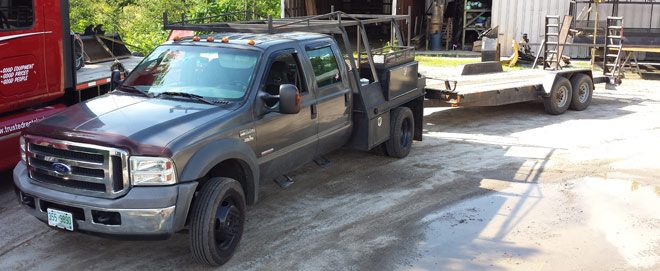 Hauling Heavy Equipment
If you have a piece of equipment or anything for that matter that needs to be hauled, we would set up a separate rate for that based on what it is, how heavy it is and where it's going. Virtually anything can go on the flatbed. It's 24 feet long, is rated for 20 ton and has ramps.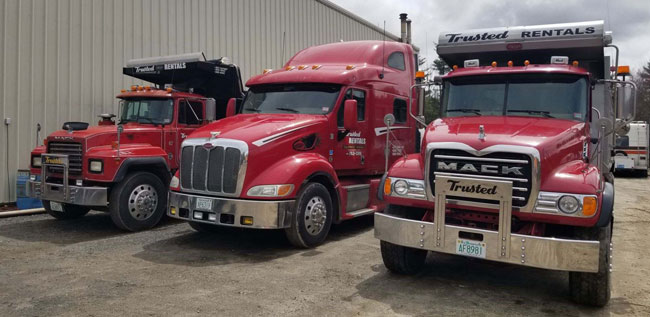 Heavier equipment like the kind weighing in the 22-ton range or long equipment (needing a 26 ft. long deck) can be transported on our Towmaster TB-50 which is a Tri-axle trailer capable of a heavier payload. It can be towed by either the Peterbilt tractor or the Mack dump truck.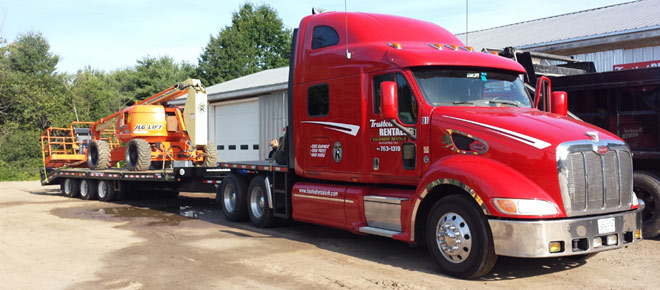 ---
For more information, call or email George M. Neuwirt
PHONE: 603-763-1319
EMAIL: TrustedRentals@comcast.net