Equipment Delivery Options
The delivery of our rental equipment is usually done by Steve, the full time driver of the rental company.
Sometimes it is done by George, the owner of the company and the owner of George Neuwirt Construction.
The equipment comes on a 20-Ton Rogers Tag Trailer towed by a Peterbilt Tractor, an F550 with a 14,000 lb trailer or the Mack Dump truck with a 20 ton trailer. Heavier equipment like the kind weighing in the 22 ton range or long equipment needing a 26 ft. long deck can now be transported on our newest trailer the Towmaster TB-50 which is a Tri-axle trailer capable of a heavier payload. It can be towed by either the Peterbilt tractor or the Mack dump truck.
The truck and trailer are about 50 ft long combined and weigh around 50,000 lbs. combined with the compact equipment on and about 65,000 lbs. with the big excavator on it.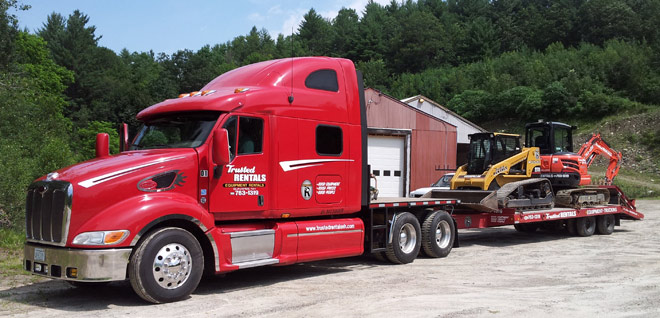 Please keep the following equipment rental restrictions in mind when finalizing directions.
With delivery, we need a place where we can turn around or drive through. Backing into an intersecting road is also good, but we really hate to use private driveways for fear of homeowner reprisal. (I mean we will if permitted but usually avoid this option if at all possible.)
We can't travel across any covered bridges, bridges that aren't rugged enough to carry the weight or underpasses that are lower than 13 feet 4 inches.
In the spring, most if not all secondary roads in New Hampshire are posted for 6 ton weight limit.... so if you need a piece of equipment, we will have to drop the piece on a main highway and then you need to walk it to your site. Or you can arrange for secondary transportation from the main highway to your site. Most road agents will let us in in the morning when it's cold but it is the renter's responsibility to contact the proper authorities to make sure we have permission. We will not travel on a posted road without permission.
Trusted Rentals LLC Location:
300 John Stark Highway, Newport NH 03773